Can you save money by installing a positive drive belt instead of a modular belt?
The answer is YES!
For each daily wash with a positive drive belt type DEL/DRIVE 50 you save: 62% water and 63% less cleaning time
Many of you have asked us this question, especially in the food industry.
Each time, we get the same answer, but we have very few figures to back up our yes!
To have the key information to confirm the points that we were sensing, we conducted a study in a slaughterhouse in Brazil.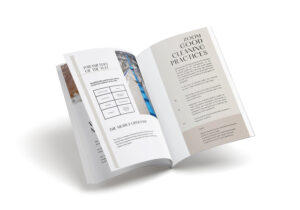 The framework of the study
Weco correis do Brasil, our local distributor, asked BRF to be our tester.  BRF, the world's leading meat company, agreed to be tested at one of its production sites.
This site is equipped with 2 cutting lines of equal capacity. The production managers chose to implement a positive drive belt from Mafdel, on the advice of Weco, to compare the results with the modular belt originally used on the conveyors.  The DEL/DRIVE 50 was selected to avoid major conveyor modifications.
Results of the study
The results are clear and based on factual data:
1- For belt cleaning using the DEL/DRIVE 50 the operators save on average 13 minutes per day.
2- For water consumption: 514,44 litres of water are saved per each cleaning. 
In addition, the operators noted that they used less detergent. It should be noted that this data was not part of the study, but the observation is there.
To find out more about the methodology and detailed results, download our white paper
These two-axis figures clearly show the positive impact of such a positive drive conveyor belt installation on a production line.
We also know that the service life of positive drive mono-material belts is longer (under normal use) and therefore the life before replacement is longer than other belts on the market.
If you would like to know more, please contact us or contact Weco do Brasil directly.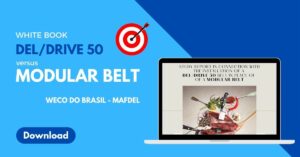 ---
Process upgrades through belting V4.0
Did you know that the first food grade synthetic coated conveyor belts appeared in the 1960's?
On closer inspection, it is obvious that the 30 glorious years of industrialisation brought innovations in this field, and each new product is pushed by another one that is more hygienic, easier to clean and to use.
We have traced these innovations in a few pictures and comments, but what interests us most today is how these conveyor belts are used and what benefits they bring to the user:
Hygiene
Cost reduction
Low maintenance
Reliability
Compliance
seem to be the key criteria for most industries.
What will be the alternatives of tomorrow?
More performance for positive drive monomaterial belts:
No fabric contamination
No delamination
Resistant to hard plastics shedding
No harbours for bacteria
Simple to retro-fit
Fit and forget operation
Quiet in operation
Water, chemical and labour saving
EU, FDA and USDA approved
…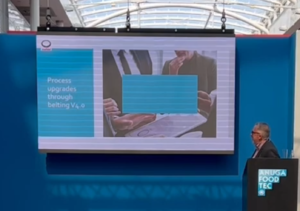 What do you think?
Feel free to share your opinions and ask us questions!
If you want the presentation material, it is available for free download in English
The full video presentation is here.
---
New catalogues
Our 3 new catalogues are the real bibles of the conveyor belt and the themroweldable belt.
You will find all the new products for 2022 in 3 editions:
thermoweldables profiles,
mono-material conveyor belts,
positive drive conveyor belts.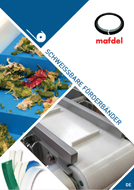 In order to further our commitment to the planet and to adapt to new consumption patterns, we have made all digital versions available here.
The Mafdel teams are always ready to help you find the right product and to discuss your current and future projects: contact us!
---
Case study: pasteurisation of ham
The needs of this meat producer
A customer of Mafdel, involved in pork processing, has opened its doors to us to reveal how our new monolithic belt products work within his plant. Our client, a long standing customer of over twenty years, has previously experienced the benefits of Mafdel's existing range of monolithic products and has now installed two more of our products within his process.
In this study, we focus on two stages: the pre-pasteurisation stage and the post-pasteurisation stage.
We have installed two different belt types to satisfy the requirements of our customer:
Hygiene,
Ease of cleaning,
Positive drive.
The pasteurisation process
Pasteurisation is very short stage in the overall process but essential, nevertheless. The pork is conveyed upstream, to end up in a loaf which is then wrapped in plastic. This plastic wrapped ham loaf is then pasteurised where the temperature is raised to 100°C and then cooled immediately within a few seconds. At the end of this tunnel, the operator removes the plastic film, and the belt conveys the loaf to the slicer. The purpose of this step is to eliminate any bacteria.
For this operation, we have advised the use two different belt types.
The choice of the plant manager
positive drive,
exceptional guidance,
tension-free installation,
resistance to high temperatures,
optimal hygiene.
hygienic construction: easily removed for daily cleaning,
compatible with the existing positively driven conveyor,
discourages bacterial growth.
These two belts were chosen because they are dismantled daily for cleaning. The operators have also been trained to weld and fit them. Furthermore, the S/Drive did not involve changing the existing conveyors in any way. The belt was designed to run with the existing competitor drive sprockets and wheels.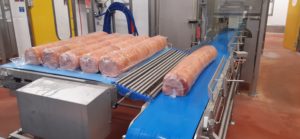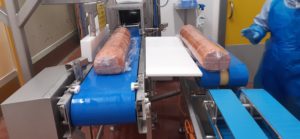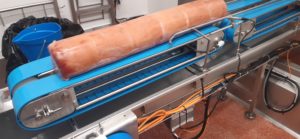 The results
To date, our customer has been satisfied with the installation, and has found that their teams spend more time on production than on maintenance and cleaning. In addition, the fact that the belts are made from a single piece of material means that they are extremely hygienic, easy to clean, are chemical resistant and there are significant water, labour and chemical savings.
The Production Manager was quoted as saying; "This equipment is more than beneficial for our production line"
The pasteurisation process is common to the meat processing industry. We are involved, on a regular basis, both to renew existing belts and to assist in the design of new equipment directly with the users or with their machine suppliers.

---
Closed
Mafdel will be closed on Friday 24 December, Thursday 30 December and Friday 31 December.
Please take these 3 days into consideration for your next orders.
We wish you all the best for the New Year!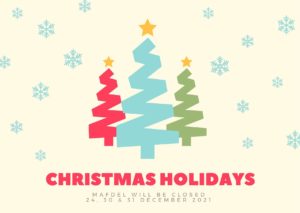 ---
Case study: sheep offal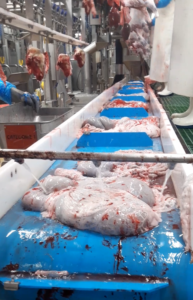 Towards optimisation of maintenance and production processes
A sheep slaughterhouse has commissioned a set of conveyors designed with two positively driven conveyor belts that transfer sheep offal. The conveyor belts comprise synchronised compartments created by cleats to keep each set of organs separate. The operators can then keep weigh them individually and get a quality endorsement that the offal is fit for consumption.
The conveyors are equipped with the new S/Drive positive-drive monolithic conveyor belts, some with cleats, others smooth.
The factory has fitted all its conveyors with Mafdel belts, and this has reduced water and chemical consumption as well as labour and cleaning time. The time saving results in increased output.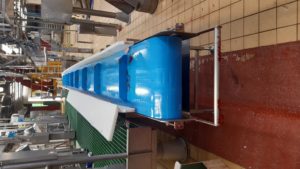 The proposed solution enabled the client to achieve its objectives:
-Save production time vs. maintenance time
 To equip with hygienic belts
 Savings in operating costs
Similar options are available for other types of meat processor where compartments can be created on the basic belt. This type of belt can be produced in any length or width required for full adaptation to the different products carried.

---
Why do we need Antistatic belts?
What is electrostatic charge?
An electrostatic discharge (ESD) is a passage of electric current between two objects with different electrical potentials over an extremely short time.
In the case of our industry, the electrostatic charge may result from friction between the belt and the conveyor bed, from movement of the product on the belt; or in dry, dusty conditions, from ionisation of the air.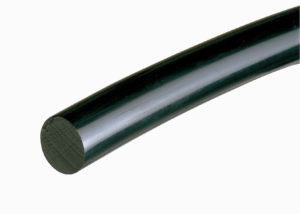 What problems can static charge cause in your production processes?
Static current can often cause problems such as:
The static charge can attract foreign bodies to the belt such as dust and small items of debris. These can then contaminate the product.
Static charge can ignite flammable  items.
Static charge can destroy sensitive electronic components.
Static charge can cause extreme discomfort to line operatives.

What solution do Mafdel  provide?
We have added an antistatic component to some of our existing materials and created:
Souplex antistatic round profile – Available in 4,5 and 6mm Ø
Del/Flex antistatic conveyor belting – An antistatic conveyor belting available in 3mm thickness
Mafdel antistatic products are fully compliant with current EU standards.
These products are used in the electronics, chemical, and pharmaceutical industries and in some areas of the logistics industry.
If you are interested in discovering more about the Mafdel and BMTS antistatic range you can find technical specifications in this explanatory sheet : Mafdel- DEL-FLEX -SOUPLEX – Antistatic-EN

---
The battle against microbes intensifies …
Ten years ago, Mafdel introduced a range of products infused with an antimicrobial treatment. The battle against bacteria has not abated and the protection of consumers remains the number one priority for food producers.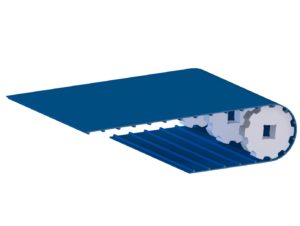 Del/Drive50
What is an antimicrobial treatment?
An antibacterial treatment, as found in Mafdel's antimicrobial products, inhibits the growth of bacteria yet does not taint or affect the transported product in any way.  The effectiveness of the antimicrobial does not diminish over time and is present and effective throughout the lifespan of the belt.
An antimicrobial additive is not a substitute for good sanitization but, once the belt is cleaned, the antimicrobial infusion maintains the bacteria count at a far lower level than a normal untreated belt would be able to.
A Mafdel antimicrobial belt is an extra level of protection for your food safety regimes.
How about legislation?
To put it simply, Mafdel's antimicrobial infusions are inert and comply with EU Regulation 10/2011, as well as FDA requirements for North America.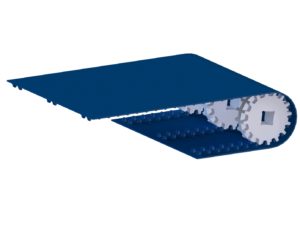 Positivebelt
Which products benefit from this treatment?
Mafdel has chosen to offer two antimicrobial products for use in the food industry. They are Del/Drive 50 and Positivebelt both of which are TPU positively driven belts.
The antimicrobial additive supplements the existing characteristics of the belt without altering them in any way whilst also providing the following benefits;
– Inhibits the growth of bacteria, mold and other micro-organisms over the belt:
o In hard to reach areas where cleaning during shifts is difficult,
o Where belt surfaces are worn or scratched which are breeding grounds for bacteria.
– Can delays the need to replace the belt.
All technical specifications are available in the downloadable data sheet : Mafdel-Antimicrobial-EN
Do these products meet your expectations in terms of hygiene and safety? Do not hesitate to contact one of our experts in the food industry to evaluate your needs.

---
Foreign body contamination: the spectre that haunts the food industry
How can a fragment of plastic, a piece of glass or metal be detected before it becomes a foreign body in a food product?
The current reality…
The French trade magazine Process Alimentaire has conducted a survey which revealed that; "product recalls due to foreign bodies have represented 5% of recall notices since June 2020 […]".
(Source: Process Alimentaire – July-August 2021 – n°1393 – p57 – "Foreign bodies – How to detect the invisible")
From Mafdel's food industry customers, there is a crucial question; "how can we be certain that the blue TPU will not be found in our food products?"
To which, our response is:
"There is no miracle solution but Mafdel's monolithic belts are the least likely of all belting products to shed contaminating material. Zero risk however, does not exist!"
Whilst our response is true, there has been undeniable technical progress made in area of metal detectability in plastics. This valuable feature is now available in several new Mafdel belting types. An inert and food-compliant (EU 10/2011 hygiene standards) component can now be blended with the same premium quality TPU material that is used in our standard TPU products to provide an enhanced level of food safety.
The result is a belt that, were it to shed material from mechanical impact, those pieces stand a far higher chance of being detected using a standard metal detector. The risk of plastics contamination is significantly reduced.
3 belts are now in our metal detectable range:
– Blue Del/Flex V-belt,
– ATC-63 blue belt
– Round belt, blue Del/Flex.
Their main and common characteristics are:
– Monolithic, waterproof and rot-proof.
– Resistant to water, detergents, animal and vegetable oils and fats.
– Temperatures resistant from -20°C to +70°C
– Quiet operation
– Metal detectable.
All technical specifications are available on the appropriate product sheet Mafdel-Belts-Metal-Detectable-EN

---
How, exactly, does a Mafdel positively driven monolithic belt work?
A bit of background…
Mafdel positively driven monolithic belts have been with us for a number of years and they have been a major game changer when taking belt hygiene on to higher levels. Experience and confidence in the market has grown and most major conveyor belt manufacturers have a product in their range that is monolithic or, at least, fulfils the role of a hygienic monolithic belt. Industry has also embraced the monolithic belt and many meat and poultry factories will now have a number of these incredibly hygienic and environmentally friendly belts in place.
The word monolithic describes an 'unchanging structure' or 'single material' so, any belt that has more than one component for example, a belt containing cords, is not actually monolithic but a reinforced or dispersed cord type and this doesn't really achieve the goal of removing fabric contamination from food manufacture.
When comparing the two types, it's important to understand the differences and consequential advantages of working with truly monolithic belts. It's also important to know that truly monolithic and dispersed cord belts work in significantly different ways. Understanding this fundamental difference is important to get the best from a Mafdel belt. Working with a truly monolithic belt means that the joining method is simpler, quicker, is totally free from fabric and provides an opportunity to create open, more hygienic and less expensive conveyors.
How do they work?
Unlike corded types, truly monolithic (no fabric or cords) should NEVER be tensioned. So, how does a zero-tension monolithic belt actually work without reinforcing cords?
All belts elongate to a greater or lesser degree, either with applied pretension or through elongation in operation due to the applied load. In the case of a Mafdel positively driven monolithic belt, it is designed to elongate up to 2.5% to achieve its full load capacity during operation and then relax back to its original state when the load is removed. This principle requires a feature where the tooth pitch of the belt is 2.5% less of that of the sprocket. This means that the sprocket allows the belt pitch to change according to load and is a key design feature and will work like this for many years.

To illustrate this, if you take a close look at the photo of a Del/Drive 25 above, you'll notice that the tooth at the bottom of the sprocket is in contact with the drive bar on the belt but, as you go clockwise, the gap between the drive bar and the tooth becomes progressively bigger. This is because the pitch of the belt is smaller than the pitch of the sprocket. If you apply the aforementioned 2.5% tension, all teeth will engage and the belt is then at full power. Reduce the load, the belt pitch reduces and tooth contact reduces again. The load creates the tension between it and the drive sprocket.
The key principle is that the zero tension allows the belt to 'creep' on the sprocket during elongation, allowing the movement of the teeth in the sprocket. For a truly monolithic belt, this is essential.
So, what happens if I tension a positively driven monolithic belt?
Well, two things happen. firstly, the applied pre-tension takes the place of available load capacity so, when you tension, the belt is already heading nearer to its maximum load capability. When you then add the load to be conveyed the belt is overloaded with the belt tooth pitch being extended longer than the sprocket pitch. This results in the belt jumping the sprockets.
The other issue is that the belt will no longer drive against the faces of the drive bars and has now become a friction drive where the belt is now driven by the top of the sprocket tooth and the back of the belt. This hinders the movement of the sprocket against the back of the belt. If the back of the belt cannot move against the top of the sprocket, there is a high risk that the teeth may run over the top of the teeth and again, you have a jumping belt. If you remove the pre-tension and provide some catenary sag, the jumping disappears, and the belt runs as it was designed to do.
Mafdel truly monolithic belts offer many advantages over their fabric reinforced counterparts.
If you want to discuss this further, contact an expert at Mafdel.