The needs of this meat producer
A customer of Mafdel, involved in pork processing, has opened its doors to us to reveal how our new monolithic belt products work within his plant. Our client, a long standing customer of over twenty years, has previously experienced the benefits of Mafdel's existing range of monolithic products and has now installed two more of our products within his process.
In this study, we focus on two stages: the pre-pasteurisation stage and the post-pasteurisation stage.
We have installed two different belt types to satisfy the requirements of our customer:
Hygiene,
Ease of cleaning,
Positive drive.
The pasteurisation process
Pasteurisation is very short stage in the overall process but essential, nevertheless. The pork is conveyed upstream, to end up in a loaf which is then wrapped in plastic. This plastic wrapped ham loaf is then pasteurised where the temperature is raised to 100°C and then cooled immediately within a few seconds. At the end of this tunnel, the operator removes the plastic film, and the belt conveys the loaf to the slicer. The purpose of this step is to eliminate any bacteria.
For this operation, we have advised the use two different belt types.
The choice of the plant manager
positive drive,
exceptional guidance,
tension-free installation,
resistance to high temperatures,
optimal hygiene.
hygienic construction: easily removed for daily cleaning,
compatible with the existing positively driven conveyor,
discourages bacterial growth.
These two belts were chosen because they are dismantled daily for cleaning. The operators have also been trained to weld and fit them. Furthermore, the S/Drive did not involve changing the existing conveyors in any way. The belt was designed to run with the existing competitor drive sprockets and wheels.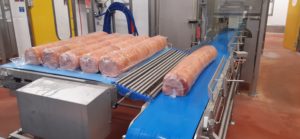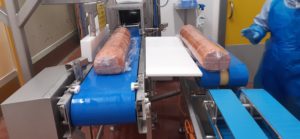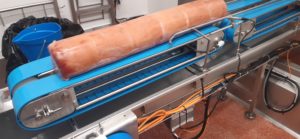 The results
To date, our customer has been satisfied with the installation, and has found that their teams spend more time on production than on maintenance and cleaning. In addition, the fact that the belts are made from a single piece of material means that they are extremely hygienic, easy to clean, are chemical resistant and there are significant water, labour and chemical savings.
The Production Manager was quoted as saying; "This equipment is more than beneficial for our production line"
The pasteurisation process is common to the meat processing industry. We are involved, on a regular basis, both to renew existing belts and to assist in the design of new equipment directly with the users or with their machine suppliers.