Did you know that the first food grade synthetic coated conveyor belts appeared in the 1960's?
On closer inspection, it is obvious that the 30 glorious years of industrialisation brought innovations in this field, and each new product is pushed by another one that is more hygienic, easier to clean and to use.
We have traced these innovations in a few pictures and comments, but what interests us most today is how these conveyor belts are used and what benefits they bring to the user:
Hygiene
Cost reduction
Low maintenance
Reliability
Compliance
seem to be the key criteria for most industries.
What will be the alternatives of tomorrow?
More performance for positive drive monomaterial belts:
No fabric contamination
No delamination
Resistant to hard plastics shedding
No harbours for bacteria
Simple to retro-fit
Fit and forget operation
Quiet in operation
Water, chemical and labour saving
EU, FDA and USDA approved
…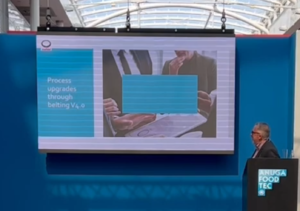 What do you think?
Feel free to share your opinions and ask us questions!
If you want the presentation material, it is available for free download in English
The full video presentation is here.