Joining tools and accessories for thermoweldable belts
Thermoweldable belts can be welded in our workshop or delivered open for welding on site.
Welding can be carried out on site, without disassembling the conveyors, and therefore limiting production downtime :
Vidéos Mafdel Belts
Extruded round belts end-to-end welded with the J50 clamp
Extruded round belts:
End-to-end welding

Small round belts:
Endless welding (J15 clamp)

V-belts:
End-to-end welding

V-belts:
45° welding

V-belts:
Overlap welding

Flat belt:
end-to-end welded

Guided flat belt:
end-to-end welded
End-to-end welding
End-to-end welding allows for quick and easy belt welding using a simple tool kit that includes:
– One clamp to align and secure the ends
– One welding iron with an inbuilt thermostat
The standard tool kit is offered in a case with joint trimming accessories.
End-to-end welding is suitable for all polyurethane or polyester belts (reinforced or unreinforced).
End-to-end welding for unreinforced belts
Unreinforced belts with end-to-end welding retain uniform strength over the joint.
End-to-end welding for reinforced belts
Reinforced belts are welded end-to-end without the need to remove the reinforcement at the joint. Because of this, all disadvantages related to normal drilling are eliminated.
Our special reinforcement cannot be melted at normal welding temperatures (260°C) and therefore, there is no risk of contaminating the weld provided a Mafdel iron with a thermostat is used.
For best results with reinforced belts, we would, however, advise our overlap joint using the specially developed overlap tool.
Overlap welding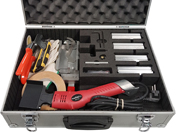 Weld by overlapping the two belt ends using a specially developed tool Kits include:
– One clamp with interchangeable die sets depending on the belt sections required
– One welding iron with an S-shaped clamp
This Overlap tool kit is offered in a case with cutting and joint trimming accessories.
We also offer a tool case with a lever clamp and an iron with electronic temperature regulation.
This tooling is especially useful in cases of:
– Welding of Del/Roc belts
– Low room temperatures
– Large belt sections
– Multiple belt set jointing
The clamp allows you apply greater pressure thanks to the lever action, and also offers faster joining cycles.
The iron offers quicker heating and welding times.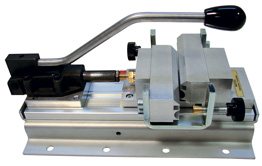 All Mafdel profiled belts can be overlap welded: round, cogged or plain trapezoidals, with covers, with top-ridges and particularly reinforced belts.
The Overlap weld offers many advantages:
– Reinforced weld
– No prior cutting
– Fast and easy
– Belt homogeneity
– Weld security
– Decreased elongation
– Greater load capacity.
 Joining plugs for tubular round belts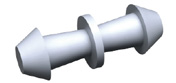 Tubular round belts are ideal for applications requiring frequent assembly/disassembly, or in cases of frequent repair.
Joining using plugs does not require special tools.
All Mafdel tubular round belts are thermoweldable and can be welded with the regular Mafdel tools if required.