Mafdel: Manufacturer of thermoweldable belts and conveyor belts for 40 years
Mafdel designs and manufactures thermoweldable belts and conveyor belts intended for continuous industrial handling.
Mafdel conveyor and profile belts are used in most industry sectors because of their numerous advantages :
Quick and easy on-site welding eliminates the need to dismantle conveyors.
Repairs are easy and greatly reduce production downtime.
High resistance to abrasion, cuts and tears.
Resistance to oil, grease and solvents.
Compliance with the most stringent food standards.
Mafdel products can be used for many applications:
  Food:  Meat, poultry, cheese making, canning, fruit & vegetables, fish, bakeries, confectionery, etc.
  Packaging:  Cardboard and sheet metal packaging, plastics, printing, paper production, etc.
  Material manufacturing:  Tiles, bricks, ceramics, concrete products, plaster products, wood industry, glass industry, etc.
  Other sectors:  Automotive, logistics, pharmaceuticals, cosmetics,  agriculture, etc.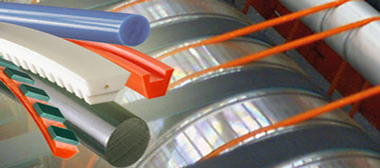 Belts for industrial handling
A wide range of thermoweldable belts
(round, trapezoidal, specialised)
Our experienced application support technicians are always available to discuss your application requirements and suggest the appropriate solutions.