Our 3 new catalogues are the real bibles of the conveyor belt and the themroweldable belt.
You will find all the new products for 2022 in 3 editions:
thermoweldables profiles,
mono-material conveyor belts,
positive drive conveyor belts.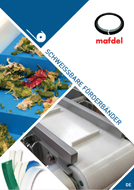 In order to further our commitment to the planet and to adapt to new consumption patterns, we have made all digital versions available here.
The Mafdel teams are always ready to help you find the right product and to discuss your current and future projects: contact us!