Positive drive belts  S/DRIVE
The ideal alternative to the market standard
S/DRIVE positive drive belts are the ideal alternative to the standard positive drive belts on the market: they can replace them while maintaining the characteristics of the conveyor.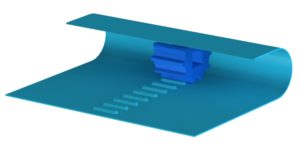 ---
 S/DRIVE
---
  Positive drive
Centred teeth
Accessories profil and sidewalls
Replacement of modular and standard market belts
Operation without tension
Polyurethane 
Available in 1 550mm wide
---
Made from polyurethane, S/DRIVE belts meet the most stringent food standards.
The positive drive belts are available in widths of 1550mm and in cut to size.
The tension-free installation reduces the stress on the mechanical parts of the conveyor.
Depending on the application, it is possible to weld on slats and sidewalls, or to perforate the belt.
Our experts are at your disposal to provide you with all the information you need for your applications.
The S/DRIVE range meets market standards
Material: polyurethane – TPU
Top side: smooth or structured
Uses: light to medium loads / low temperatures / anti-microbial treatment (on demand) / standard winding diameter: use of existing sprockets and pulleys
Special feature: the teeth of the S/DRIVE are moulded in the mass, which gives it optimum safety
The S/DRIVE belt is flexible and resistant to traction, it is suitable for conveying light to medium loads. Version antimicrobial available .
Associated equipment: profiles, slats, containment edges, perforations.