Homogeneous belts for the agri-food industry
The Mafdel range of conveyor belts is compliant with the most stringent international and European standards.
Highly resistant to abrasion, wear, cuts and tears, these belts also have characteristics that are essential in the agri-food industry.
Our mono-material belts are impermeable and rot-resistant.
The lack of textile threads eliminates the risk of product contamination due to edge fraying.
The smooth surfaces guarantee an optimum level of hygiene, makes cleaning easy and prevents bacterial growth.
Made from noble materials, they offer excellent resistance to detergent products.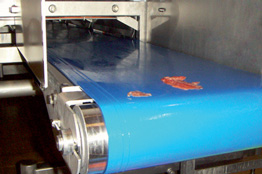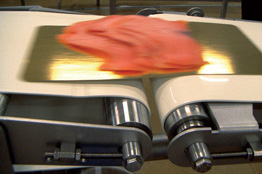 Mafdel food-grade conveyor belts are perfectly suited to many agri-food industries:
Meat and poultry
Fish
Cheese making
Canning
Fruits and vegetables
Industrial bakeries and pastry making
Biscuit factories
Ready-cooked dishes
Etc.