Conveyor belt accessories
To meet different needs, Mafdel conveyor belts can be fitted with accessories (scraper, profiles, sidewalls, etc.).
Accessories can be installed on the belts at our workshops, or be delivered as separate components.
Conveyor belt scrapers
The polyurethane DEL/CLEAN scraper helps to effectively remove unwanted product from the conveyor belts.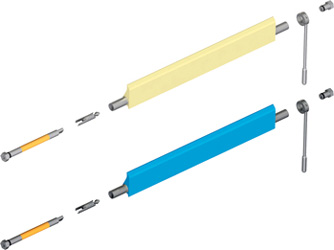 It can be used on any type of belt and offers many benefits :
Small footprint
No lateral misalignment
Fast and easy assembly
Can be adapted to any type of existing or new installation
Suitable for all types of conveyor belts
Easy to clean
Easier maintenance
Integrated tube torsion system providing optimum hygiene
Using the DEL/CLEAN scraper ensures that conveyor belts are constantly clean and prevents:
Unwanted contamination
Damaging build up on conveyor components
Loss of material
Cleated conveyor belt
Cleated conveyor belts improve efficiency/capacity of both horizontal/inclined/declined conveyors.
Both square or rounded profiles are available:
  Flat profiles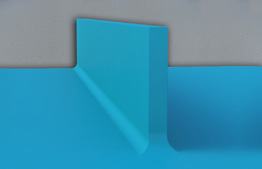 Rounded profiles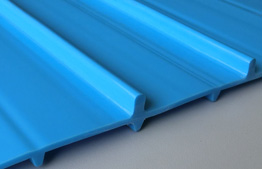 The radiussed profile base prevents bacterial growth and makes belt cleaning easier.
When transporting heavy loads, gussets can be added to support the profile.
– High-frequency welded profiles
Polyurethane belts can also be fitted using a high-frequency welding process.
This welding method offers for very high resistance to ripping, and can be made without adding material or glue.
– Hot air welded profiles
Hot air welded profiles are fabricated in our workshops on all conveyor belts in the range.
DEL/DRIVE 50 and DEL/DRIVE 25 positive drive conveyor belts can be mounted upside down offering a smooth belt where the teeth are used as cleats.
Conveyor belt sidewalls

Sidewalls effectively maintain loose products.
For certain applications, it is also possible to weld lateral trapezoidal-shaped guides.
The roller diameter for belts fitted with sidewalls must be less than 2.5 times greater than the sidewall height.
Perforated conveyor belts

Perforated conveyor belts facilitate the positioning of objects and improve water runoff.
Our belts are perforated upon request.
Tracking guided belts
Regardless of their number and placement, longitudinal profiles known as tracking guides are welded to the belt and not glued.
Welding prevents the risk of belt and guide separation while guaranteeing perfect hold.

Troughed belts

All mono-material conveyor belts are suitable for troughing applications.
DEL/DRIVE and POSITIVEBELT positively driven belts can also be troughed. The flexibility and un-tensioned operation of these belts allows for configurations that are not possible with modular belts.
Retaining clip

On the DEL/DRIVE and POSITIVEBELT positive conveyor belts, retaining clips can be used to prevent the sprockets, wheels and disks moving laterally on the 40 x 40 mm shaftes.
Motorised drive drums
Motorised drive drums can be used for driving DEL/DRIVE and POSITIVEBELT smooth belts and positive drive belts.
Using a motorised drive drum reduces the belt footprint and make cleaning easier.
Solution 1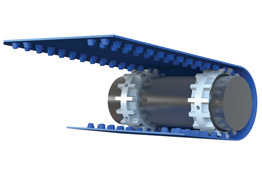 Smooth drum fitted with HDPE sprockets on a stainless
steel bushing
Solution 2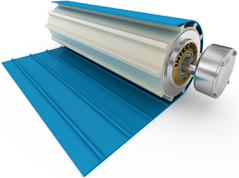 Moulded sprocket profile bonded to the drum itself