Welding mono-material conveyor belts and positive drive belts
Using Mafdel conveyor belts helps you to reduce maintenance costs thanks to the speed and ease of on-site welding.
All conveyor belts can be delivered endless or open for on-site welding.
Vidéos Mafdel Belts
Welding of a positively driven conveyor belt DEL/DRIVE
Welding of a DEL/DRIVE conveyor belt
Thermowelding
Endless belt welding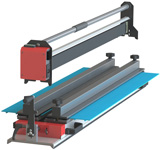 All Mafdel conveyor belts (except DEL/SYNC) can be welded endless using a dedicated joining press and welding blade.
Using the tools is simple, quick and easy and allows you to weld both in the workshop or on site.
We offer a full range of locating plates for use with the belt press for each type of positive drive belt so that correct tooth pitch is maintained at the weld.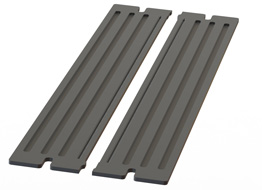 DEL/DRIVE 25 locating plates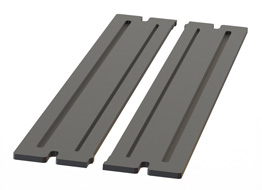 DEL/DRIVE 50 locating plates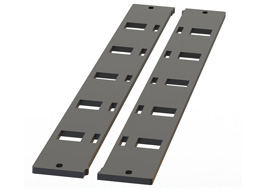 POSITIVEBELT locating plates
---
The complete welding kit includes:
A welding blade
A welding press
Accessories
Instructions
A plastic case on wheels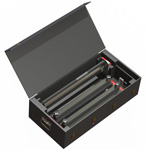 ---
DEL/SYNC jointing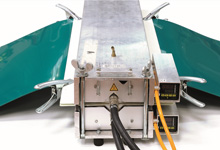 The DEL/SYNC belt is joined in a press after having the joint cut using a specific tool.
If required, all mono-material belts (except DEL/ROC) can also be welded using this procedure.
Hot air welding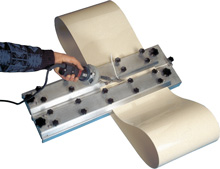 Hot air welding makes it possible to weld smooth belts using a welded seam.
This welding method also lets you weld profiles and repair belts on site if they have been damaged.
Stainless steel fasteners
Stainless steel clips can be used where there is a need to regularly remove the belt for cleaning or maintenance.
Stainless steel clips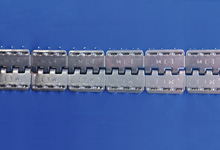 They are suitable for all widths and belts
that are 1.5 to 5 mm thick.
Assembly requires tools and appropriate clips.
(Not all clips are suitable).
Polyurethane welded fasteners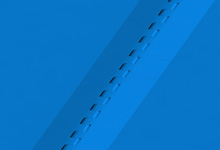 Moulded plastic joints are suitable for all Polyurethane
and polyester mono-material belts of all widths.
They are recommended for roller diameters
greater than 120 mm.
Applying plastic clips allows for the belts to be used with
metal detectors and prevents the risk of metal contamination.